All it takes is one flyaway stone or pebble on the highway to cause a chip or crack that requires windshield repair. From auto glass repairs of small cracks to full window or windshield replacement, Waxwerks & Audio+ is your local Indianapolis expert. Contact our professionals today at (317) 577-9700 for fast, top-notch service.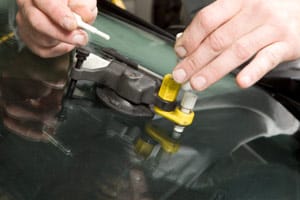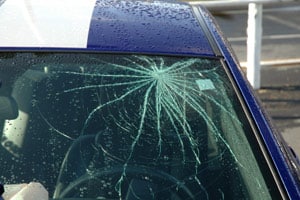 Auto Glass Repair
Fractures in your vehicle's windshield can occur for a variety of reasons, and many can be repaired instead of total auto glass replacement. Today's technology enables qualified technicians to force the air out of the damaged area, and then inject a special resin that is compatible with your vehicle's type of glass. The windshield repair process often takes less than 30 minutes to complete, and can be done in an auto detailing shop in conjunction with dent removal or scratch repair.
New advancements in technology now enable us to do an auto glass repair instead of a total auto glass replacement in many cases. If the crack is small enough, we can force the air out of the broken area and inject a specially designed resin into the break that's compatible with your vehicle's glass type. This incredible procedure takes less than thirty minutes – that's even faster than an oil change! Better yet, since repairing is much cheaper than replacing, you save a lot of money in the process.

It's very important to address problems as soon as possible. Both hot and cold temperatures can impact the condition of auto glass, encouraging small chips and cracks to increase in length. Before those star shaped chips start branching out like a spider web, further weakening the glass, it's time to call Waxwerks & Audio+ at (317) 577-9700 for a vehicle glass repair assessment. Windshield repair is much cheaper than replacement, and if you wait too long, the damage may increase to a point where windshield replacement is the only option.
Auto Glass Replacement
When vehicle glass replacement is necessary, we can usually complete the process during the same day for most vehicles. We use OEM (Original Equipment Manufacturer) quality glass, and our competent crew uses only the best quality adhesives to ensure a safe, lasting fit. Several of our team members have over 20 years of experience in auto windshield replacement and vehicle glass repair–bringing experience and knowledge together. It's what sets Waxwerks & Audio+ apart from the rest.
Windshields Beware – Hazardous Situations
According to the RITA Bureau of Transportation Statistics, the average American spends almost an hour of time behind the wheel each day. No matter how careful you may be when driving, accidents happen. Semis kick up rubble or things fly out of the back of pickup trucks. Even when your car is parked, a stray baseball or some unforeseen hail can do a lot of damage.
While unfortunate, sometimes we can't prevent these incidents. However, you can make the repair process as simple as possible by getting your window or windshield replacement done by the professionals at Waxwerks & Audio+.
Windshield Repair vs. Replacement
In some cases, replacement may seem like the only option, but have no fear. Thanks to recent innovations in technology, we can now repair many cracks, dings, or chips without doing a complete windshield replacement. This process takes less than 30 minutes. Read about the repair procedure below:
Bring your car into our Indianapolis garage.
Using a special tool, we will force the air out of the damaged area.
Then, we will seal the breaks with a special resin.
Now that's simple. After the auto glass repair is over, you'll be free to drive home. If you're unsure as to whether you need a quick repair or a complete window replacement, contact us. We can examine the break and let you know the best solution.
Other Automotive Solutions
Waxwerks & Audio+ also offers several other products and services that will leave your car looking good, both inside and out.
In addition to auto glass and windshield replacement, we also perform services such as window tinting, car detailing, car scratch repair, car remote starters, car audio installation, car alarm installation, car upholstery repair, car and truck accessories, dent removal, and more. At Waxwerks & Audio+, our professional auto detailing services result in strong customer satisfaction. Contact us in Indianapolis today at (317) 577-9700 for more information or to make a service appointment.