You're driving through Indianapolis, enjoying a beautiful day in the city. You don't think much about the cars around you or the construction zone you're driving through—until that rock hits your windshield. Suddenly, your joy ride is a lot less…well…joyful.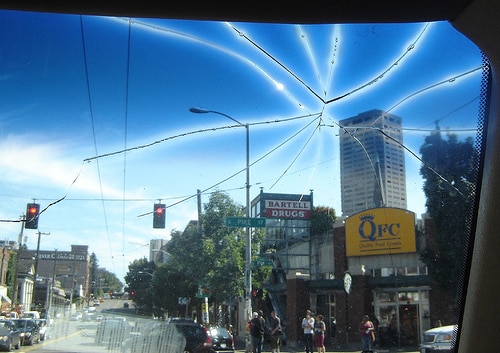 The rock is lodged in your windshield, and some small cracks have formed around it. You begin to wonder, "Is my windshield going to break? Do I need auto glass repair, or can it wait?" You really want to continue on with your day, but you also don't want to ignore that obvious crack right in front of your eyes.
Here's the deal: If you're concerned about windshield damage from a stray rock or a recent accident, don't wonder whether the glass is going to hold. Put your mind at ease by bringing your vehicle to Waxwerks of Castleton—an auto glass expert.
At Waxwerks, we can quickly determine whether your car needs windshield repair or replacement. Most auto glass repairs can be completed in our Castleton location in less than 30 minutes. We use special tools that force air out of the damaged area and then seal it for a seamless, like-new appearance and durability.
You don't have to wonder whether your windshield will hold up! Instead, contact Waxwerks at (317) 577-9700. Waxwerks is a local business committed to serving Indianapolis residents. Just check out what satisfied customers are saying about our windshield repair, car detailing, dent removal, window tinting, and other auto services. Give us a call to set you up today with an auto glass consultation or even schedule your windshield repair.
photo credit: devin's windshield. via photopin (license)