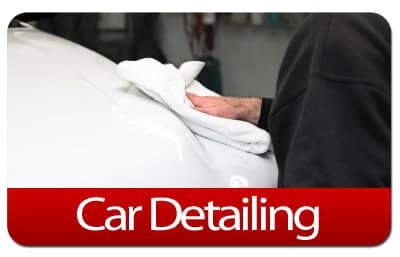 Let's face it: dents, scratches, and glass cracks happen. That's why more and more drivers in the Indianapolis area have turned to Waxwerks & Audio+ as their go-to source for any and all assistance with auto detailing. From general car detailing and dent and scratch removal to glass and upholstery repairs, we do it all! Here's just a quick look at how our professional auto detailing services can keep your car in tip-top shape.
Professional Car Detailing
Car detailing is our area of expertise here at Waxwerks. Our three flexible detailing packages – Express, Complete, and Ultimate – offer plenty of affordable, professional options starting at just $79 to choose from to help repair and truly revitalize your car. Choose which one suits you the best, and our detailing experts will get to work on it, post-haste.
Express Detail Package
Our Express Detail Package offers a quick, simple way to polish up your vehicle and get it into top shape. The package offers thorough and professional hand-washing of the exterior as well as a full interior cleaning. Specifically, the package offers:
Basic wax exterior
Hand wash exterior
Interior cleaning and vacuuming
Tire cleaning and dressing
Window cleaning on inside and outside
Complete Detail Package
Looking to go the extra mile to give your car or truck an even better detailing job? Our Complete Detail Package does just that! This comprehensive package combines all of the features of the Express Detail Package with a carnauba wax finish, trunk cleaning, and thorough cleaning of all mats and carpets. The package includes:
Trunk vacuuming
Window cleaning inside and outside
Wipe down of door jambs
Cleaning and dressing of console, door panels, and dashboard
Exterior hand wash and carnauba wax
Shampoo and vacuum carpet and seat
Ultimate Detail Package
The most comprehensive and extensive auto detailing package available, the Ultimate Detail Package offers "the works!" The package specifically offers:
Exterior hand wash
Removal of topical exterior contaminants
High-speed paint polish
Application of Diamond Kote for optimal paint protection
Shampoo and vacuum carpet and seats
Wipe down door jambs
Clean and dress dashboard, console, and door panels
Trunk vacuuming
Sunroof and window wash
Waxwerks proudly serves the Indianapolis area for experienced auto detailing services. Give us a call today at (317) 577-9700 to schedule a car detailing appointment to ensure your vehicle stays in top condition.