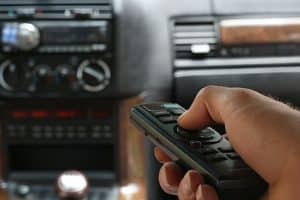 Every day, we do more and more electronically. From online shopping to adjusting your home's thermostat, you can find a technological solution to most of your everyday problems. So why would you expect anything different when it comes to your car? At Waxwerks & Audio+, we love decking out our rides with some of today's best car technologies, and here are a few of our favorites.
1. Hands-Free Communication
The next time you're at a stop light, just peek around you to see how many people have their smart phones out. We don't have to quote you the statistics to reiterate that this type of phone usage while driving is hazardous. However, you can still make good use of your phone while on the road with a Bluetooth stereo system with hands-free communication. This technology allows you to use certain features of your phone using voice command while keeping your eyes on the road at all times.
2. Remote Starter
A remote car starter comes in handy year-round. Many people purchase it to use during the winter when they want their cars to heat up before actually getting in them. However, you may find that a remote starter comes in just as handy during the extreme Indiana heat or a torrential downpour.
3. TV/DVD Player
Any parent who has taken kids on a long road trip understands the value of an onboard TV and DVD player. If your car or van doesn't already come equipped with this tech, our crew at Waxwerks & Audio+ can make it happen with an integrated DVD/CD/radio/GPS system.
Want more technology upgrades for your car? Contact us today at (317) 577-9700 to find out about all your options. Our staff will gladly tell you what we offer and schedule an appointment for installation. Waxwerks & Audio+ is located in Castleton, a convenient location for anyone in the Indianapolis area.
By Ildar Sagdejev (Specious) (Own work) [GFDL or CC BY-SA 4.0-3.0-2.5-2.0-1.0], via Wikimedia Commons